Dr. Tim O'Carrigan

F.R.A.C.S., F.A.Orth.A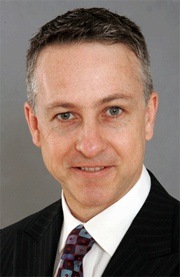 Dr O'Carrigan is Sydney born and trained and graduated with Honours from the University of New South Wales in 1988.
Internship and residency was followed by Accredited Orthopaedic Training which was completed in 1997.

I then completed a 12 month Fellowship in Limb Lengthening and Reconstruction in Baltimore Maryland with Drs Dror Paley and John Herzenberg. Both of these surgeons are foremost in their field and head the busiest limb reconstruction unit in the United States. Extensive study and surgical experience was undertaken in the methods of Ilizarov to treat complex deformity in both adults and children.
My particular interest is in the correction of deformity in adults as a result of severe trauma or residual congenital or developmental skeletal abnormalities. I also specialize in Foot and Ankle surgery.
Upon return to Australia I have established a private practice in Liverpool Sydney.
Head of the Orthopaedic Department at Campbelltown Public Hospital
Conjoint Senior Lecturer at University of Western Sydney Medical School
As Head of the Orthopaedic Department I was awarded the Clinical Deans Excellence Award for 2009. The Orthopaedic Term was voted the Best Surgical Term for 2009 by the Medical Students at UWS.
Medical School
University of New South Wales (1988)
Qualifications
Bachelor of Medicine Bachelor of Surgery Honours Class II Division II
Post-Graduate
Fellow of the Royal Australasian College of Surgeons 1997 FRACS
Fellow of the Australian Orthopaedic Association FAOrthA
Registration
The New South Wales Medical Board
Professional Memberships
Australian Orthopaedic Association
Royal Australasian College of Surgeons
Australian Society of Orthopaedic Surgeons
Current Public Appointments
Visiting Medical Officer at:
Campbelltown Public Hospital

Current Private Hospital Appointments
Campbelltown Private
Sydney Southwest Private
Liverpool Day Surgery
Specific Areas of Interest
Foot & Ankle Surgery





Adult Deformity correction

- post-traumatic Congenital or Developmental- this includes bone infection, non-union, malunion, limb length discrepancy and malalignment



Lower Limb Joint Replacement

- Hip Knee and Ankle joint replacement for private patients can be undertaken at either South West Private Hospital or Campbelltown Private Hospital. Dr O'Carrigan does not have a public hospital appointment with the facilities to undertake joint replacement.



Lower Limb Arthroscopy

- knee and ankle



Knee and Ankle Ligament Reconstruction

- ACL reconstruction and ankle reconstruction for instability